Hours
Monday

07:30AM - 05:00PM

Tuesday

07:30AM - 05:00PM

Wednesday

07:30AM - 05:00PM

Thursday

07:30AM - 05:00PM

Friday

07:30AM - 05:00PM

Saturday

07:30AM - 12:00PM

Sunday

Closed
See All Department Hours
Dealership Hours
Monday

08:00AM - 07:00PM

Tuesday

08:00AM - 07:00PM

Wednesday

08:00AM - 06:00PM

Thursday

08:00AM - 07:00PM

Friday

08:00AM - 06:00PM

Saturday

08:00AM - 04:00PM

Sunday

Closed
Parts Dept. Hours
Monday

Closed

Tuesday

7:30am-5:00pm

Wednesday

7:30am-5:00pm

Thursday

7:30am-5:00pm

Friday

7:30am-5:00pm

Saturday

7:30am-12:00pm

Sunday

Closed
Service Dept. Hours
Monday

07:30AM - 05:00PM

Tuesday

07:30AM - 05:00PM

Wednesday

07:30AM - 05:00PM

Thursday

07:30AM - 05:00PM

Friday

07:30AM - 05:00PM

Saturday

07:30AM - 12:00PM

Sunday

Closed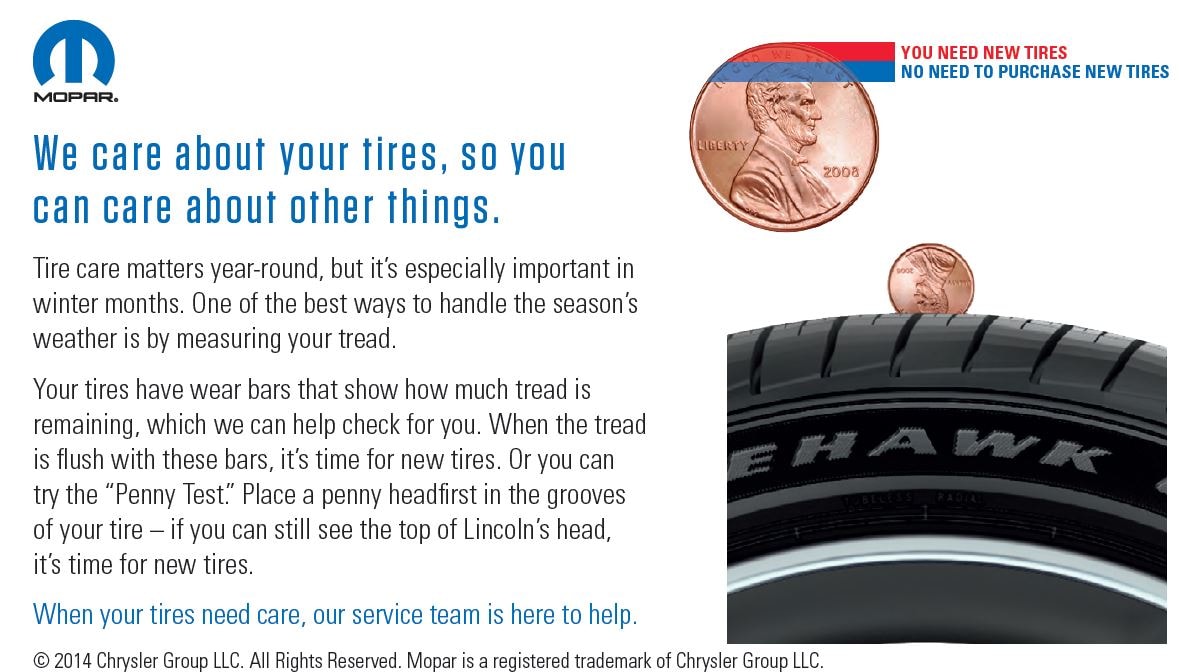 Proper Tire Inflation

Tires are designed for maximum performance at a specific inflation pressure. If a tire is not properly inflated, the tire's footprint and the pressure it exerts on the road surface are decreased. This limits its ability to transmit correct handling and braking characteristics.  Bring your vehicle in for a
complimentary
tire inflation check so we can get your vehicle handling and braking as designed!
Importance of Tread Depth
A decrease in tread depth can negatively impact a vehicle's cornering and braking, especially on  wet surfaces! This is due to the fact that the tire cannot handle the same quantity of water on the road at lower tread depths.
If you can see the top of Lincoln's head when checking your tread depth, come visit us for new tires!  We have a wide variety of tires available to fit all makes and models!  Rest assured with our
"Price Match Guarantee"
that you will get a great deal on your next set of tires!  We'll also help protect your investment with two years of
complimentary road hazard protection
available on most of our tires! See our service and parts team today for additional information.